Brooklyn Nine-Nine: Season 7
Path:
Brooklyn Nine-Nine: Season 7
DVD Wholesale Quick Overview:
The seventh season of the television sitcom Brooklyn Nine-Nine premiered on February 6, 2020 on NBC and concluded on April 23, 2020. It is the second season to air on NBC (whose partner studio Universal Television produces the show), after the series was cancelled on May 10, 2018 by Fox; the season consists of 13 episodes.
"Brooklyn Nine-Nine" follows the exploits of hilarious Det. Jake Peralta (Andy Samberg) and his diverse, lovable colleagues as they police the NYPD's 99th precinct. After Captain Raymond Holt's (Andre Braugher) demotion to patrolman at the end of season six, the squad's world is turned upside down. Rounding out the ensemble is the newly promoted Lt. Terry Jeffords (Terry Crews), a muscle-bound human mountain who loves nothing more than his three little daughters, except for a fresh carton of full-fat yogurt. The man loves yogurt. Underneath him is Sgt Amy Santiago (Melissa Fumero), a consummate rule follower with a weak spot for dork dancing and for her husband, Jake. The other detectives in the squad include Jake's best friend and human puppy dog, Det. Charles Boyle (Joe Lo Truglio), and the incredibly secretive, tough-as-nails Det. Rosa Diaz (Stephanie Beatriz). Also part of the Nine-Nine are veteran officers Det. Scully (Joel McKinnon Miller) and Det. Hitchcock (Dirk Blocker), whose only skill as police officers is their ability to make a passable pot of coffee.
DVD Wholesale Main Features:
Actors : Andy Samberg, Stephanie Beatriz, Terry Crews, Melissa Fumero, Joe Lo Truglio
Media Format : NTSC
Studio : Universal Pictures Home Entertainment
Number of discs : 2
MPAA rating : s_medNotRated NR (Not Rated)
Run time : 4 hours and 33 minutes
Release date : June 30, 2020
ASIN : B08B7KJCD6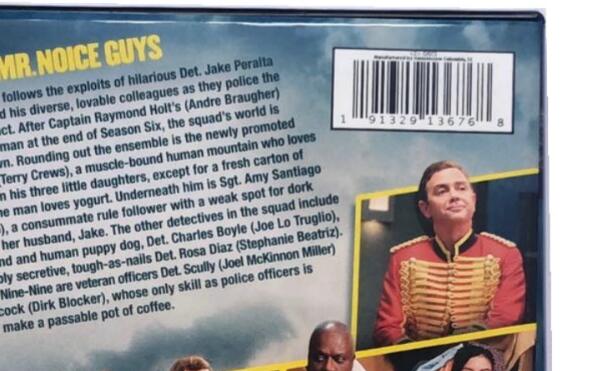 Inquire Now