Luther: The Complete Series
Path:
Luther: The Complete Series
DVD Wholesale Quick Overview:
Luther is a British psychological crime drama television series that premiered on BBC One in the UK on 4 May 2010. The series centres on DCI John Luther (played by Idris Elba), a highly talented detective working in London to solve a series of high-profile murders. Co-stars include Ruth Wilson as Alice Morgan, Warren Brown as DS Justin Ripley, Steven Mackintosh as DCI Ian Reed, and Saskia Reeves as Det Supt Rose Teller. As the series progresses Nikki Amuka-Bird joins as the recently promoted DCI Erin Gray, and Dermot Crowley is promoted to a starring role as Det Supt Martin Schenk, and Michael Smiley continues portraying Benny Silver. Patrick Malahide appears as George Cornelius in the fourth and fifth seasons.
Buckle your seatbelt for the turbulent career of London's DCI John Luther, starring Idris Elba. As brilliant as he is impulsive, Luther wrestles with the darker side of humanity and with his own grim ghosts. Will his arch enemy – a beautiful and equally brilliant mass murderer (Ruth Wilson, Mrs. Wilson, Jane Eyre) – win their lethal battle of wits? Or will Luther's visceral sense of moral order finally free him from his personal and professional demons?
DVD Wholesale Main Features:
Director : Various
Actors : Various
Media Format : NTSC
Studio : BBC
Number of discs : 6
Run time : 20 hours
Release date : July 16, 2019
ASIN : B07KM1WMQY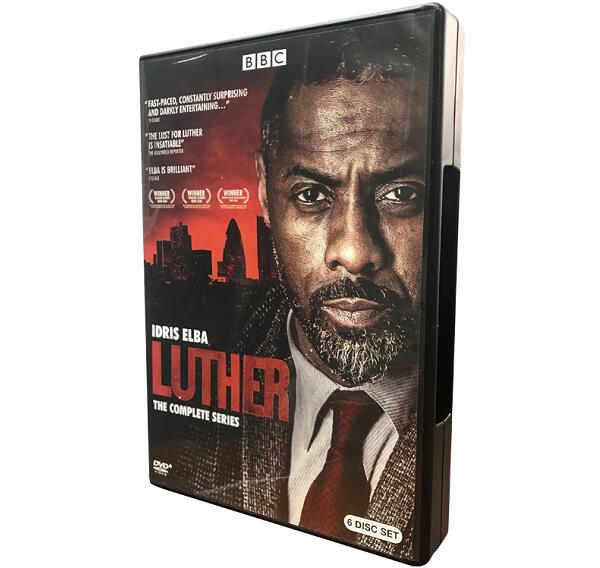 Inquire Now