Supergirl: Season 5
Path:
Supergirl: Season 5
DVD Wholesale Quick Overview:
The fifth season of the American television series Supergirl, which is based on the DC Comics character Kara Zor-El / Supergirl, premiered on The CW on October 6, 2019, and consisted of 19 episodes. It is set in the Arrowverse, sharing continuity with the other television series of the franchise. The season is produced by Berlanti Productions, Warner Bros. Television, and DC Entertainment.
The season was ordered in January 2019, and was originally planned to have 22 episodes, later brought down to 20. Filming began that June, and production was shut down in March 2020 due to the COVID-19 pandemic, leaving the season with only 19 episodes.
Season four showed that truth, justice and the American way are stronger than fear and hate, as Supergirl (Melissa Benoist) stopped Lex Luthor's anti-alien campaign with the power of the press, no cape required. As the world returns to normal, some things will never be the same now that Lena (Kate McGrath) knows Kara's secret and the Monitor has arrived on Earth 38! Watch, like Leviathan, as new dynamics and relationships unfold for Supergirl and her friends and colleagues as their adventures continue in season five!
DVD Wholesale Main Features:
Actors : Melissa Benoist, Mehcad Brooks, Chyler Leigh, Katie McGrath, Jesse Rath
Producers : Greg Berlanti, Sarah Schechter, Robert Rovner, Jessica Queller
Media Format : NTSC
Studio : WarnerBrothers
Number of discs : 4
MPAA rating : s_medNotRated NR (Not Rated)
Release date : September 8, 2020
ASIN : B08928L6DJ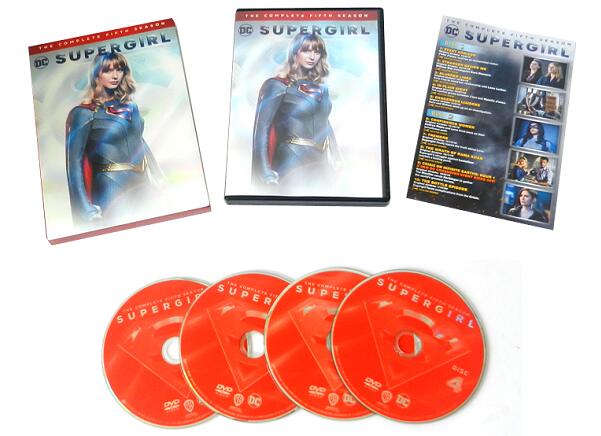 Inquire Now