Mr. Robot: The Complete Series
Path:
Mr. Robot: The Complete Series
DVD Wholesale Quick Overview:
Mr. Robot is an American drama thriller television series created by Sam Esmail for USA Network. It stars Rami Malek as Elliot Alderson, a cybersecurity engineer and hacker with social anxiety disorder and clinical depression. Elliot is recruited by an insurrectionary anarchist known as "Mr. Robot", played by Christian Slater, to join a group of hacktivists called "fsociety". The group aims to destroy all debt records by encrypting the financial data of E Corp, the largest conglomerate in the world.
The pilot premiered via online and video on demand services on May 27, 2015. The first season debuted on USA Network on June 24, 2015, and the second on July 13, 2016. The third season premiered on October 11, 2017. The fourth and final season premiered on October 6, 2019, and concluded on December 22, 2019.
Enter the captivating world of "Mr. Robot," following Elliot Alderson (Emmy-winner Rami Malek), a young computer programmer turned vigilante hacker. Elliot suffers from social anxiety, and hacking people is his primary means of human connection. Disillusioned with modern society, Elliot's world suddenly changes when he meets Mr. Robot (Golden Globe-winner Christian Slater), the mysterious leader of an underground hacktivist group that wants to recruit Elliot to help take down the "one percent" and trigger a worldwide revolution. Mr. Robot: The Complete Series comes with all 45 episodes and special bonus features including the making of, deleted scenes, and more!
DVD Wholesale Main Features:
Actors: Rami Malek, Christian Slater
Format: NTSC, Subtitled
Language: English (Dolby Digital 5.1), French (Dolby Digital 5.1), Spanish (Dolby Digital 5.1)
Subtitles: French, Spanish
Subtitles for the Hearing Impaired: English
Region: Region 1
Aspect Ratio: 1.78:1
Number of discs: 14
Rated: NR – Not Rated
Studio: Universal Pictures Home Entertainment
DVD Release Date: March 31, 2020
Run Time: 2231 minutes
ASIN: B0833WXZRS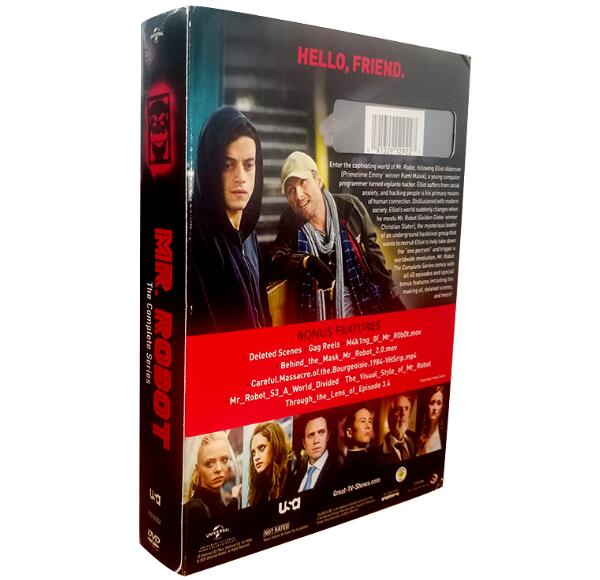 Inquire Now