VEEP: The Complete Series
Path:
VEEP: The Complete Series
DVD Wholesale Quick Overview:
Veep is an American political satire comedy television series that aired on HBO from April 22, 2012, to May 12, 2019.[2] The series was created by Armando Iannucci as an adaptation of his sitcom The Thick of It. The protagonist of Veep is Selina Meyer (Julia Louis-Dreyfus), a fictional Vice President of the United States. The series follows Meyer and her team as they attempt to make their mark and leave a legacy but often instead become mired in day-to-day political games.
Veep received critical acclaim and won several major awards, including seven consecutive nominations for the Primetime Emmy Award for Outstanding Comedy Series, winning that award for its fourth, fifth, and sixth seasons. Its second, fourth, and sixth seasons won the Writers Guild of America Award for Television: Comedy Series, and its third season won the Television Critics Association Award for Outstanding Achievement in Comedy.
Julia Louis-Dreyfus stars in this comedy series that follows the whirlwind day-to-day existence of former President and Vice President Selina Meyer as she tries to claw her way back to being Commander in Chief in spite of her screwball staff. The ensemble cast includes Tony Hale as Selina's right-hand man; Anna Chlumsky as her chief of staff, and more.
DVD Wholesale Main Features:
Actors : Julia Louis-Dreyfus, Anna Chlumsky, Tony Hale, Reid Scott, Timothy Simons
Producers : David Mandel, Frank Rich, Lew Morton, Morgan Sackett
Media Format : NTSC
Studio : HBO
Number of discs : 13
Release date : January 14, 2020
ASIN : B07ZWBD84S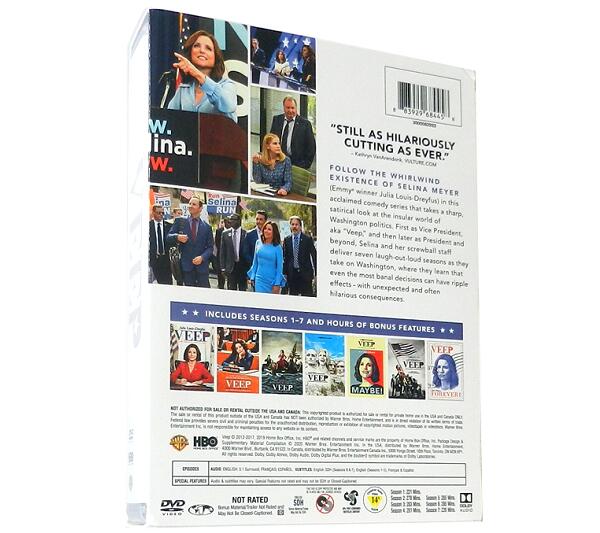 Inquire Now