The Hunt
DVD Wholesale Quick Overview:
The Hunt is a 2020 American horror thriller film directed by Craig Zobel and written by Nick Cuse and Damon Lindelof. The film stars Betty Gilpin, Ike Barinholtz, Amy Madigan, Emma Roberts, Ethan Suplee, and Hilary Swank. Jason Blum serves as a producer under his Blumhouse Productions banner, along with Lindelof. Both Zobel and Lindelof have said that the film serves as a satire on the profound political divide between the American left and right.
The Hunt was theatrically released in the United States on March 13, 2020. It received mixed reviews from critics and grossed $9 million. The film's financial shortcomings have been largely attributed to the COVID-19 pandemic which resulted in the worldwide closure of movie theaters. Universal made the film available digitally just a week after its theatrical release.
DVD Wholesale Main Features:
Actors: Ike Barinholtz, Betty Gilpin, Emma Roberts, Hilary Swank
Directors: Craig Zobel
Writers: Damon Lindelof, Nick Cuse
Producers: Jason Blum, Damon Lindelof
Format: Subtitled, NTSC
Language: English (Dolby Digital 5.1), French Canadian (Dolby Digital 5.1), Spanish (Dolby Digital 5.1)
Subtitles: French Canadian, Spanish
Subtitles for the Hearing Impaired: English
Region: Region 1
Aspect Ratio: 2.39:1
Number of discs: 1
Rated: R – Restricted
Studio: Universal Pictures Home Entertainment
DVD Release Date: June 9, 2020
Run Time: 90 minutes
ASIN: B085HNCCB7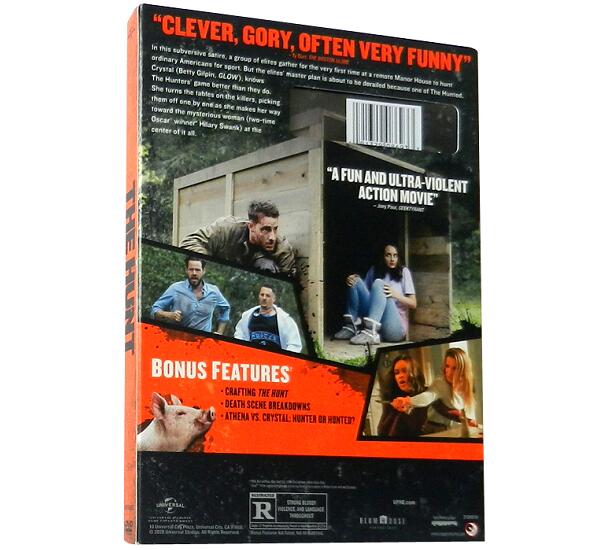 Inquire Now