Dolittle
DVD Wholesale Quick Overview:
Dolittle (also referred to as The Voyage of Doctor Dolittle) is a 2020 American fantasy comedy adventure film directed by Stephen Gaghan from a screenplay by Gaghan, Dan Gregor, and Doug Mand, based on a story by Thomas Shepherd. A reboot of the original 1967 Doctor Dolittle film and its modern comedy counterparts, Dolittle is based on the titular character created by Hugh Lofting and is primarily inspired by the author's second Doctor Dolittle book, The Voyages of Doctor Dolittle (1922). Robert Downey Jr. stars as the title character, alongside Antonio Banderas and Michael Sheen in live-action roles, with Emma Thompson, Rami Malek, John Cena, Kumail Nanjiani, Octavia Spencer, Tom Holland, Craig Robinson, Ralph Fiennes, Selena Gomez, and Marion Cotillard voicing a diverse array of creatures.
Universal Pictures theatrically released Dolittle in the United States on January 17, 2020. The film grossed $228 million worldwide and became the third highest-grossing film of 2020, although it was a box office bomb, with Universal expected to have losses of $100 million. It also received generally unfavorable reviews, with Rotten Tomatoes saying critics found the film had a "jumbled story and stale humor".
DVD Wholesale Main Features:
Actors: Robert Downey Jr., Antonio Banderas, Michael Sheen, Harry Collett, Emma Thompson
Directors: Stephen Gaghan
Writers: Stephen Gaghan, Dan Gregor, Doug Mand
Producers: Joe Roth, Jeffrey Kirschenbaum, Susan Downey
Format: NTSC, Subtitled
Language: English (Dolby Digital 5.1), French Canadian (Dolby Digital 5.1), Spanish (Dolby Digital 5.1)
Subtitles: French Canadian, Spanish
Subtitles for the Hearing Impaired: English
Region: Region 1
Aspect Ratio: 1.85:1
Number of discs: 1
Rated: PG – Parental Guidance Suggested
Studio: Universal Pictures Home Entertainment
DVD Release Date: April 7, 2020
Run Time: 102 minutes
ASIN: B083N4KV3T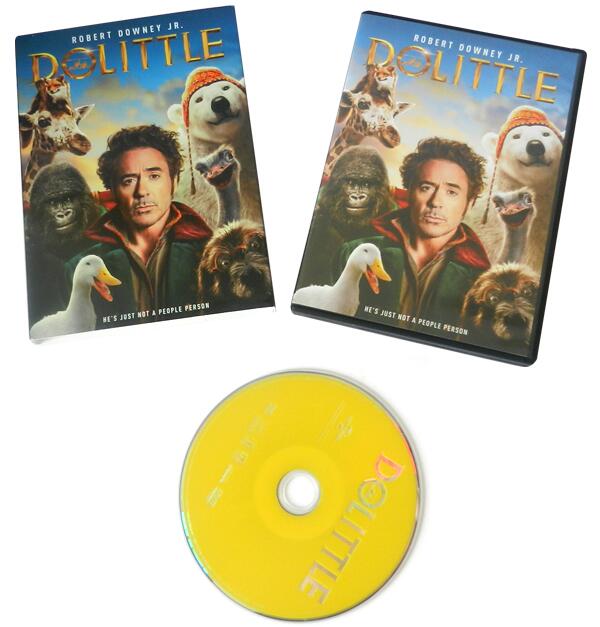 Inquire Now